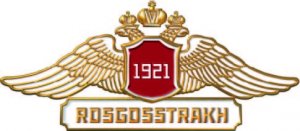 ROSGOSSTRAKH Group of Companies
ROSGOSSTRAKH is the largest nationwide insurance company in Russia with 90 years of experience. ROSGOSSTRAKH Group of companies includes: Rosgosstrakh Ltd., JSC Rosgosstrakh, Rosgosstrakh-Life, Rosgosstrakh-Medicine (operating compulsory medical insurance), RGS pension fund, "Kapital insurance" and "Kapital Reinsurance" companies, dealing mainly with corporate clients. ROSGOSSTRAKH provides now all possible pension solutions for local and international clients in Russia.
ROSGOSSTRAKH is the leader on the Russian insurance market.By the end of the first half 2011 its assets amounted to $ 4 320 mln, the equity capital — $ 736 mln, the reserves —
$ 2 394 mln. OJSC Rosgosstrakh capital is over $ 40,96 mln.
ROSGOSSTRAKH Group of companies is number 1 in the non-life segment and life insurance with over 45 000 000 individual (including obligatory medical insurance) and 240 000 corporate clients.
ROSGOSSTRAKH has the largest regional infrastructure among Russian insurance companies and includes: 83 regional branches, more than 3000 offices, 400 claims settlement centers. The company employs 100 000 well trained, professional staff, including more than 65 000 insurance agents.
Rosgrosstrakh Group of companies was given the highest "А++" rating by Expert Rating Agency and "AAA" (maximal reliability) rating by National Rating Agency.
ROSGOSSTRAKH is the only company in Russia which offers all insurance products and services through direct insurance. We provide standard products and services across the country in the most convenient for a customer.
Rosgrosstrakh Group has many awards. The winner of 39 Golden Salamanders — Russian insurers' highest professional award (2003-2011), winner of 5 Reader's Digest's Trusted Brands awards (2006-2010), winner of National Silver Archer Award for Best PR-project (2009), winner of Financial Pearl of Russia (2008), winner of the National Award "Financial Olympus 2010", winner of the national award "Insurance Company of the Year in Russia" (2010).
Sponsors